Frederick's Fantastic Oyster Fry and Craft Show
We'll see you March 5th, 2022!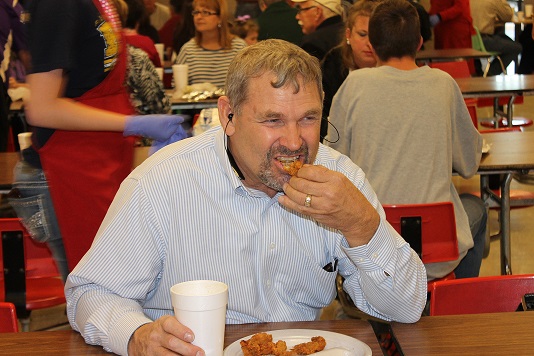 In 1952, a man by the name of Bramlett Johnson brought a bucket of oysters from the Gulf Coast of Texas to Manitou, Oklahoma. He fried up the muscles and served them to the school board, who soon after began holding an annual oyster fry fundraiser. The southwest gained a pearl. The Oyster Fry of southwest Oklahoma was held in Manitou, Oklahoma for 30 years. After years of tradition, the festival outgrew the town and was picked up by the Frederick Chamber of Commerce.

The Frederick Fantastic Oyster Fry has now occupied the small town for over 31 years. Frederick sits just 20 miles north of the Red River, the great divider of Oklahoma and Texas. Each year this river is crossed the day before the event. A member of the Oyster Fry Committee drives down to Port Levaca, TX and loads two broken down deep freezers with 140 gallons of freshly caught oysters. The oysters are packed in ice and immediately brought back to Frederick for breading and frying.

The Oyster Fry serves thousands of people each year. Consumers come by bus load from all over the country. The recipe for frying up oysters has not changed since the 1950s. Whether fried or raw, there's plenty to go around. The Frederick Fantastic Oyster Fry has no history of running out of oysters.

A craft show is always held next door to the fry with an assortment of booths from vendors across the country from 11 am to 5 pm.